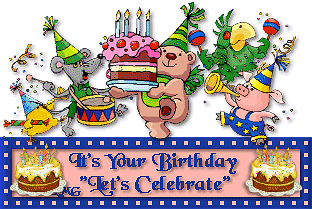 MySpace
Happy Birthday Comments
Today is my GREAT Grandson Mathias 7th Birthday!!! Happy Birthday,Honey!! He lives in Guadalajara Mexico. I think he and his folks will be able to come on up here in August! I will be so happy to see him! They celebrated his birthday a couple of days ago.


It has cooled down here a lot from yesterday! I think I saw on the news at noon it was down to 47 degrees. I had thought about turning on the AC yesterday when it was 81 indoors and we were all getting cranky!! Well, me anyways!! But I didn't, because I like to have a month that we have a smaller bill and in the fall the same thing.
Thanks for your prayer for Kelly! She said to thank you all and she is studying very hard.
My friend Sandi over at Did you ever think about? lost her Dad this week after an illness. He did come to the Lord and she is thrilled about this. If you have a minute please go over and give her some love. This is a hard time for her and her family.
I have a few more prayer request, my friend Cinda's husband needs a job. He worked for years for a company then got sent to another one and it went out of business. Cinda's health isn't very good either. Linda is Cinda 's sister and she needs prayer for doors to open up for her!! Thanks for your prayers!!